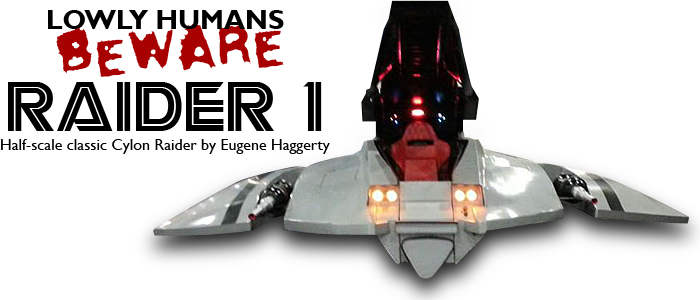 BURN GALACTICA! BURN!!
Nothing is more iconic then the classic Cylon Raider flying in to attack the last remaining Battlestar and the ships of the rag tag fugitive fleet. But this is not a show and you are not dreaming - this is real. A one half scale fully operational classic Cylon Raider. Get in, close the canopy, power up all systems.... and DRIVE it around!!!
Here are some of the amazing build photos and events that Raider 1 has been to.
Click each image below for a larger view.



Framed in




Canopy started




Canopy test fit




Engines started




Wing frame done




Wing skin started




Body skin started




More skin work




Sanded smooth




Power ON!
Weapons needed




Take off for TX
Goodbye FL




Raider 1 landed
at Galacticon




Remember where we parked




Alarm set
*beep* *beep*




Raider 1
Photobomb!

Raider 1's maiden voyage at Galacticon 3 was a massive success. Fans from around the globe who attended the convention were thrilled to see and sit in the one of a kind fan made machine.

---

After Galacticon Raider 1 attends many more conventions and events - 2013 was a BUSY year for the ship. For her first parade she had the special honor of non other than Apollo himself - the wonderful Richard Hatch!




Raider 1's first parade with a special guest - more seating is needed




Richard Hatch and Eugene Haggerty - you may launch when ready




Richard waves to BSG fans in the parade as Raider 1 "flies" him down the road

---

10,000 miles - and more fans and photos than that - finds Raider 1 is back in the shop. Fame takes it toll and the ship needs some T.L.C. from its creator and master craftsman.

Eugene has the ship torn down for repairs and improvements. Watch the skies... and flee from the Cylon tyranny!