IL Series
IL Series are command level Viceroys of the Imperious Leader. Usually they oversee the functioning of Basestars, planetary bases or outposts. They do not engage in direct combat rather try to elevate their status with tactical achievements to be next in line to be promoted to Imperious Leader.
Physically they are a robotic humanoid mimicking a Colonial body type and facial features. Their head is a half transparent dome with advanced circuitry showing through it. They have two scanning eys, ears and a mouth shaped vocal assembly. No appearance variations exist within the IL Series, other than choice of robes.
IL Series have a human-like voice with tone, infection and emotional traits. In addition to superior vocal functions they also have higher level cognitive programming than Centurions or Civilians. IL Series Cylons express human level emotions including: lusting after power, jealousy, disgust, fear, devious betrayal, self preservation, etc.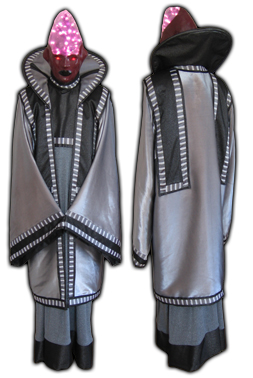 Photos Courtesy of Red Eye